Whether it's the lodge, the lake house, the cabin, or just your cozy every day interiors, rustic spaces create a warm and comfortable yet refined atmosphere that feels like an escape from the hustle of normal life. Rustic decor is all about natural materials and celebrating the existing beauty of your home and its surroundings. Think exposed wood beams, stone accents, fireplaces, and inviting furniture. If you're looking for hardware to complement your rustic decor, here are some rustic hardware ideas.
Incorporate Natural Elements
Oak Leaf Pull NHP-644-BHT, Horse Chestnut Wood Knob NHW-743W-AB, Oak Leaf Wood Knob NHW-744C-BHT and Squirrel Knobs NHK-177-AB-L, R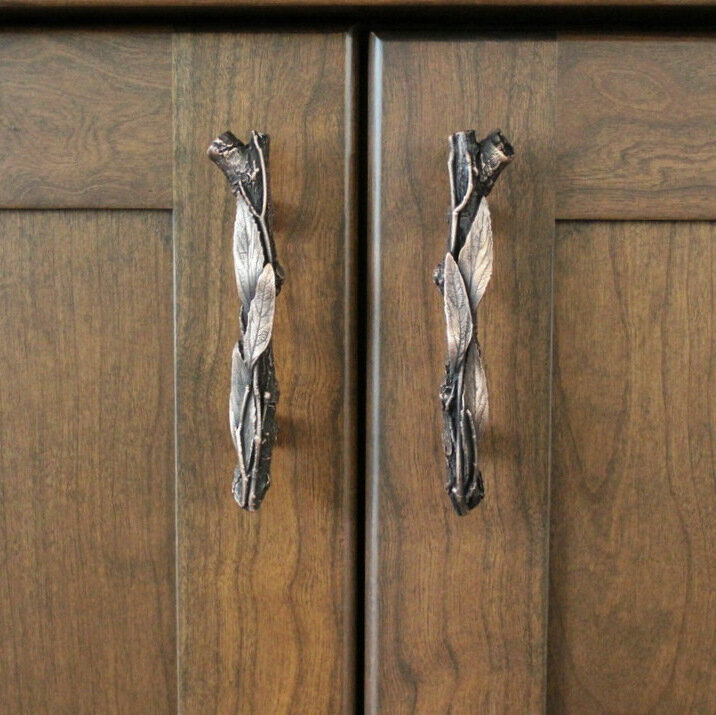 Leafy Branches NHP-672-AC in Antique Copper
Gather Inspiration from Your Surroundings
Ginkgo Leaf NHK-147-AB, Oak Leaf NHK-144-AB and Cones & Boughs NHK-138-AB
Oak Leaf Bin Pull NHBP-844-AC in Antique Copper
Deep Neutral Tones Create a Warm Atmosphere
Horse Chestnut Knob NHK-143-DB in Dark Brass
A Touch of Refined Rustic for Your Cabinets
Maple Leaf Knobs NHK-146-AP in Antique Pewter
Chateau Knobs NHK-176 in Antique Copper, Dark Brass and Antique Pewter
Versatile Nature-Inspired Swirls & Curls
Saddleworth Bin Pull NHBP-859-AP and Knob NHK-159-AP in Antique Pewter
Contact us to find a retailer near you where you can order. Looking for more rustic hardware and decor ideas? Check out our Lodge Looks Pinterest Board!